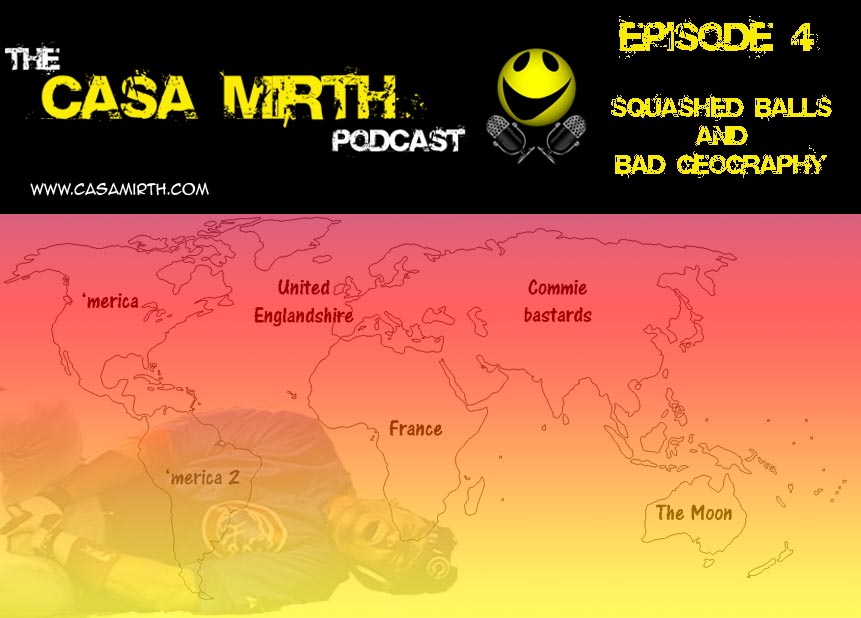 Yes, it's finally here! Episode 4 of the Casa Mirth podcast!!!
It's all here – but it's not just squashed balls and bad geography…
Apart from the afore-mentioned subject matter, We also take a first visit to the Napalm Pen (more or less), hear more from the Channel Mirth News Team and most excitingly of all, get to hear Episode 2 of "From within the Actor's Head"!!!
There's an extra air of mirth about this one, due to the several hours in the pub before recording, but this has provided about 10 minutes of out-takes just from the 3 minutes of news, so the next LBOTS should be fun 🙂
Also on this episode, there's some medical advice provided after the end theme tune and we have messages from two very famous people, one of whom is in fact, dead.
Download :
To download this episode, right-click and "save link as"
Or play it right here:
or listen to the show on Stitcher Smart Radio:
and don't forget to share!